In this project, you will receive 1 eight foot 2×4 and one word from Richard Serra's seminal work "Verb List Compilation: Actions to Relate to Oneself"
You will use that verb to guide you in the process of manipulation of the wood plank with the result of a new form made from the wood.
In class, you will be given a plethora of tools and techniques with which to manipulate the wood, you must choose the processes and techniques that are associated with the verb you are working from. In addition, you must use all the wood you are given.  This means any dust or scraps you generate through the working process must be re-introduced into the final form. (For cutting on the saws, we can go by weight!)
The verb list is comprised of words that relate to literal actions, such as "to split" or "to twist." How you interpret these words is up to you. "To split" may be interpreted as literally splitting you board with a wedge, or maybe the board becomes a wedge that is ready to split something else. It is important no to get caught up in how you want the sculpture to look at the end. Let the process and the ideas embedded in the words guide the form. But remember as well, good art tends to take things as far as they can go!
Your final work can be situated in any way that works with your verb, it can rest on the floor, be on a pedestal, hang from the ceiling, be outside or inside, or installed in a specific place- this should be guided by your word and your form.
As you learn the techniques in class and are brainstorming your ideas, work with scrap wood to generate more ideas before attacking your plank. The act of making can lead you in unexpected directions.
Look at the list of words and the examples of work below. Think about how the works and forms relate. These examples might not be single 2x4s, but the process and activities of the artists are what is leading to the result, not necessarily a preconceived notion of what the work should look like.
Wolfgang Laib- collects pollen, looks like he is arranging, but he is "disarranging" from nature
Tom Friedman- using an object to create an image of itself- disarranging, but still the object? Changed but unchanged\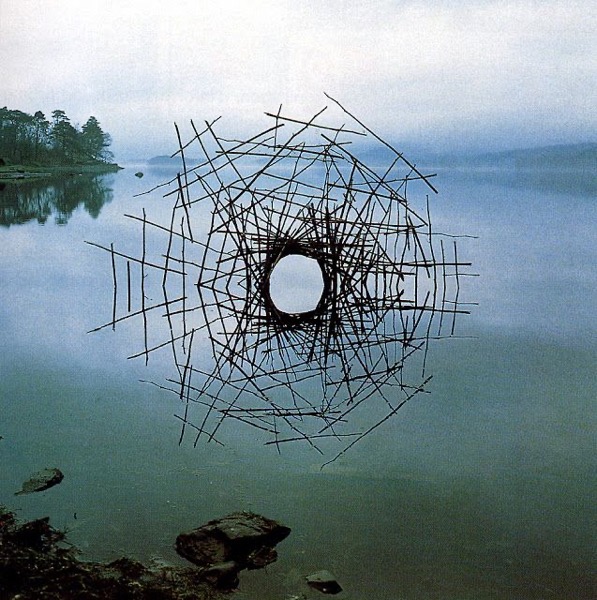 Andy Goldsworthy- completion and reflection "Enclosing"? Installed on water to complete the effect
Andy Goldsworthy- laminating and layering and several other possibilities
left: Urs Fischer; center: Tom Friedman; right: Jamie Pitarch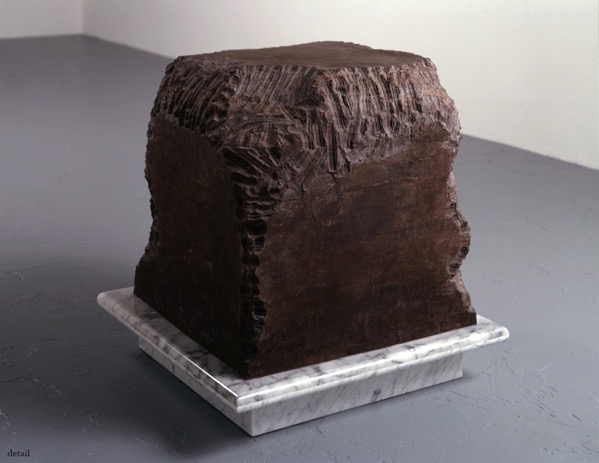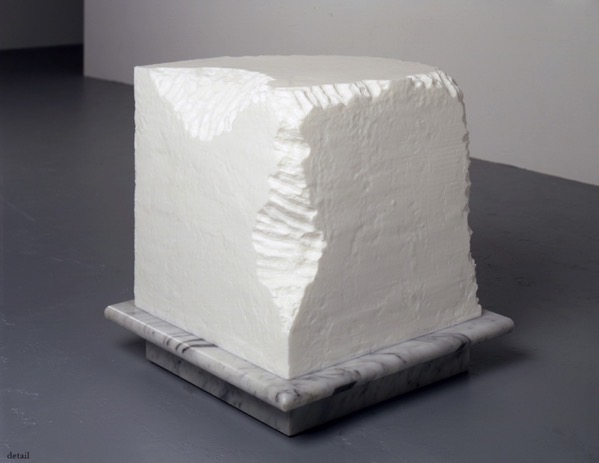 \
Janine Antoni
Gnaw, 1992
600 lb chocolate cube and 600 lb lard cube gnawed by the artist, 27 heart-shaped packages of chocolate made from chewed chocolate removed from chocolate cube and 130 lipsticks made with pigment, beeswax, and chewed lard removed from lard cube 
Installation dimensions: variable
Gnaw comprises two 600-pound cubes – one of chocolate, the other of lard – and a three-paneled, mirrored cosmetic display case. Using her mouth as a tool, Antoni nibbled the corners of both cubes, leaving visible teeth marks in the material. The chocolate fragments, blended with spit, were melted down and cast into 27 heart-shaped packages for chocolates, while the lard residue was combined with wax and bright red pigment to create 135 tubes of lipstick. 
Paul Kos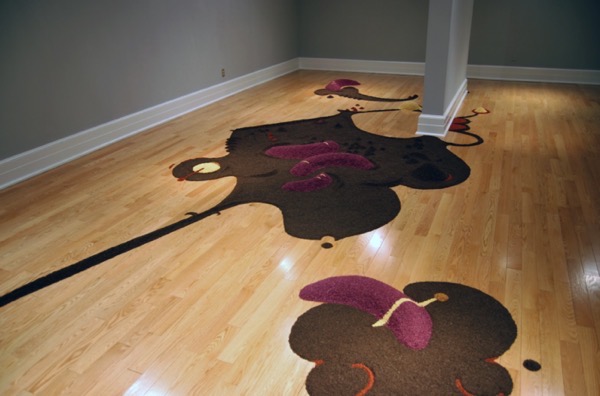 Mike Lavine
Need more inspiration? Here is a list of artists to look at- you will find more and better images of their work in the library, just sayin'.
Tom Friedman
Los Carpenteros
Rachael Whiteread
Fred Tomaselli
Tom Sachs
Do-Ho Suh
Joana Vasconcelos
Tara Donovan
Dennis Oppenheim
Chris Burden
Anne Hamilton
Rebecca Horn
Fischli and Wiess
Tim Hawkinson
Louise Bourgeois
Tony Cragg
Anthony Caro
Mark di Suvero
Andy Goldsworthy
Anish Kapoor
Yayoi Kusama
Robert Lazzarini
Richard Long
Sol LeWitt
Ron Mueck
Isamu Noguchi
David Nash
Louise Nevelson
Kiki Smith
Tony Smith
Kenneth Snelson
Richard Serra